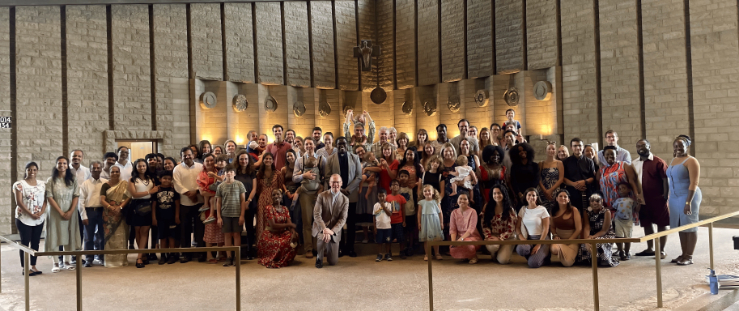 Welcome to our International Catholic Community!
The beginnings of this English-speaking Catholic Community date back to as recent a time as September 2013. Those who had until then participated in the celebrations of the American Military Catholic Community made plans to fill the gap that opened when the American Forces left Heidelberg.
In September 2013, we were able to celebrate our first Mass in English language in the Church of St. Michael. Since then every Sunday 1p.m. Mass is gathering a mixed community made up of employees of different international companies, people engaged in studies and research at the university, and guests in this city. Despite their many different backgrounds, cultures and languages, our community members are united through the bonds of their faith.
Apart from our Sunday Mass, we offer regular occasions to receive the Sacrament of Reconciliation. Of course, the celebration of other sacraments is possible as well. Once a month, the community meets for a Social Gathering where we enjoy food and each other's company...
ICCH is part of the Catholic City Church of Heidelberg ("Stadtkirche Heidelberg") inside the parish of Philipp Neri. As a community whose activities are organized by volunteers, it depends on the help of everyone present.
A small but growing and active community, we are always happy to welcome guests and newcomers!